About Used Bikes Direct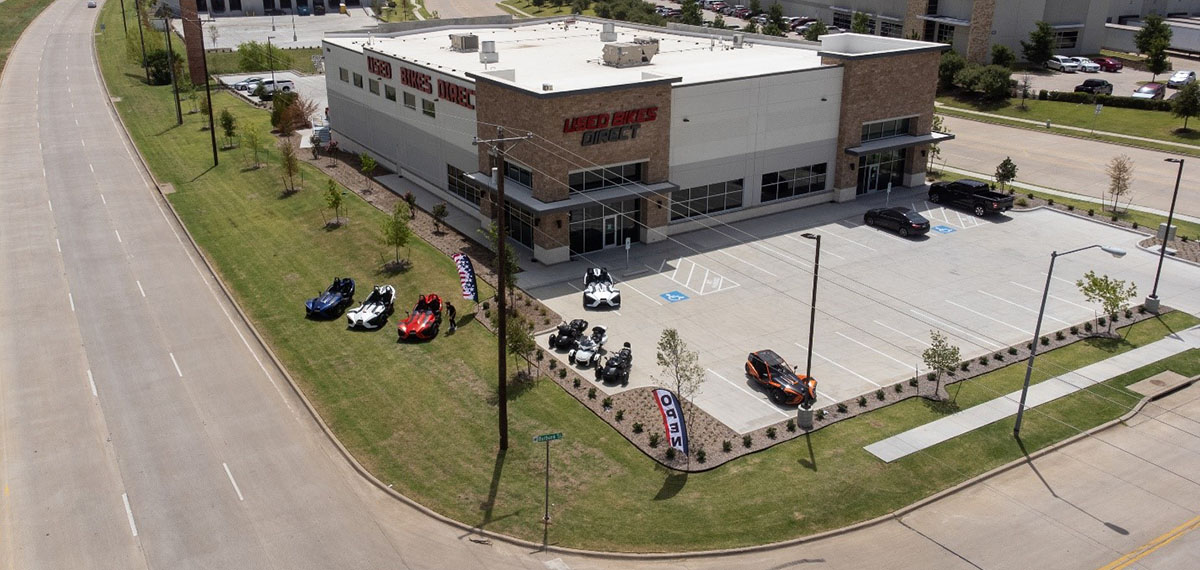 BUYING
Is easy...You can do it all from the comfort of your chair, Check out our inventory and if you see something you like simply hit the "Check availability tab" and fill out your info then simply leave the rest to us!
FINANCING
We sell hundreds of bikes every month… That means BUYING power which means we get your riding for less! With the volume of banks we have we can typically get you the very best of terms. Poor credit? We understand life happens and we will do everything we can to get you riding too!
SELLING
Its easy. Go here and enter your info. You will receive an estimated cash offer within an hour. Our buyer will then contact you to arrange payment and collection of your bike.
TRADING
Want to trade your bike in? No problem… Simply fill out the trade evaluation form here and give us as much info as you can. Once complete, we will collect your trade in when we drop off your new ride.
30 DAY WARRANTY
Want peace of mind? You got it… We are a huge multi line, multi location dealership that backs UP everything we sell. All of our certified rides come with a FREE 30 day warranty that's going to give you the protection you need and deserve! Want more peace of mind? You got it. All of our premium rides are eligible for our gold extended service coverage, Simply buy your ride from us and get the addition protection you need for less too!
Money Back Guarantee
Don't like your ride? No Problem, Simply let us know within the first 24 hours of receiving your ride and we will refund your money no questions asked (Certified Bikes Only)
Certified bikes
Certified bikes are quality bikes that a qualified, certified technician has reviewed fully your new ride in great detail. Each bike is road tested and put on our 250IX dyno where we further test your bike comprehensively. All this detail simply ensures that
when we deliver your new ride that you will be 100% happy. We refuse to budge on quality and aim to give you 100% peace of mind in a hassle free / haggle free environment. All Certified bikes are eligible for free delivery within our delivery area at a discounted rate outside of our delivery area.
Everyone claims to sell Certified vehicles which sounds great doesn't it? But what really matters is WHO conducted the inspection and certified it! Our certifications are carried out by highly qualified and factory trained technicians. These guys have 10+ years of experience and factory training behind them so our certifications are ones that you can bank on. Again, our aim is to deliver high quality motorcycles to your doorstep that you will be happy with no questions asked.
Non Commissioned Sales People
We want our buying process to be something you remember for the right reasons - As such we don't have pushy or pressy sales members.Our sales team has two goals, One Make you smile, Two get you riding!
Fast n Free delivery on all Certified bikes
There's only one thing we love more than bikes and that is YOU, Our customers!!! As such, where possible, we want to deliver your new ride ourselves. We offer Fast N free delivery within a 6 hours' drive of our warehouse located in Baton Rouge, Louisiana. A 6-hour one-way drive means we can deliver FAST to parts of Florida, Atlanta, Mississippi, Tennessee, Arkansas, Louisiana, Oklahoma and Texas.
If you live outside of our free delivery area we can still help and will promise you a quality shipping company that specializes in shipping quality motorcycles safely, you won't get free shipping but we can promise quality shipping at a reduced rate.
The UBD delivery team has a super busy schedule but they should have your new ride to you within 72 hours of your payment / documents being cleared. Please understand that this is our AIM and not a guarantee. Weekends, Holidays and unforeseen circumstances that are out of our control may affect your delivery window. However; one thing we can guarantee is that you will not be waiting 4 weeks as you do with most motorcycle shipping companies :) Excludes Bargain Buy Units.
Delivery Outside of area
Don't live within our delivery area? That's ok! While we can't offer our personal touch and deliver the bike to you ourselves we can still get your new ride to you, We use only reputable motorcycle specialist shipping companies that love your bike as much as you do - The best part is your getting premium shipping at a heavily discounted rate :)
Store Information/Fly N Ride
You can of course visit our main store and see and buy our used bikes in person. We are located in Baton Rouge and Slidell Louisiana and Dallas Texas.
We are open Tuesday through Friday from 9am until 6pm and Saturday 9am until 3pm.
If you are out of state and wanting to visit our dealership we do offer Fly N Drive assistance. Simply contact us at (866) 576-2453 for more information.
Used Bikes direct is operated from our main Baton Rouge dealership located on Airline Highway, Baton Rouge. Our main dealership sells new Honda and Yamaha product. Our second dealership is located in Slidell, Louisiana and sells new Honda, Yamaha, Kawasaki and Polaris product. You can visit our second location here.